Filter Reviews
5 star rating

4 star rating

3 star rating

2 star rating

1 star rating
Jennifer F.
5 star rating
Best top Ever
Review by Jennifer F. on 30 May 2020
review stating Best top Ever
I absolutely love the swimsuit top the only thing I would change is maybe make it a little bit thinner on the sides but it fits amazing.
Super sexy, supportive top!
Review by Amy F. on 26 Mar 2019
review stating Super sexy, supportive top!
This top is literally the best of both worlds. It's supportive and sexy. I'm a 36C and the medium is snug and lifting. Love the look. These suits are so much better than anything I've ever purchased!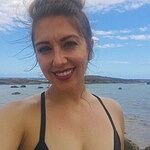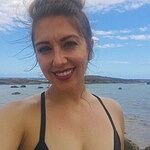 Elizabeth H.
5 star rating
Hands down best purchase
Review by Elizabeth H. on 5 Jun 2018
review stating Hands down best purchase
I bought the Ho'okena top and Kona bottoms, and was so skeptical that they would fit as well as the reviews claimed. Y'all, I will never buy another bathing suit again. The attention to detail is awesome--the material used is sturdy and comfortable, there are no tags to chafe you, and everything stays in place. The cut of the top is PERFECT, just the right amount of security and coverage. I'm an athletic woman (read: powerlifting thighs), and the Kona bottoms are the first bottoms I have ever owned that make my lower half look not just good, but amazing. I have not felt comfortable in a bikini in years, but this is a total game changer.
Love this top!
Review by Monica T. on 27 May 2018
review stating Love this top!
Love this top!
great, sporty bikini top
Review by Cstark on 5 May 2017
review stating great, sporty bikini top
this bikini top fits great and is very supportive while still looking sexy/not looking too sporty
no seams makes it extremely comfortable
Comments by Store Owner on Review by Cstark on 5 May 2017
Q: Can i order this in an xl?
A: Hi Jaime,

Sorry we only make this top up to a L. Try our Kohanaiki top in an XL.
Q: I'm fairly small chested. Like a 32 B or a 34A -- do you recommend I order this top or the Kohanaiki top? I think I like the Kohanaiki top better, but want to pick the one that will work the best/look the best.
A: Aloha Brooke,

For this top, we recommend getting a small.